The Continuous Improvement Program (CIP) will help your organization reflect on where it has been, where it's going, what's working, and what's not.
Based on your needs and goals, we will propose a custom CIP for your nonprofit – and then work with you to ensure that the stated road map, timeline and deliverables are in line with your organization's leadership team.
The program can include the following areas:
Strategic Planning
Social Return on Investment (Measuring Social Impact)

Community Outreach & Partnerships

Development & Fundraising

Social Media Optimization

Boards, Governance & Staffing

Campaigns & Program Management
Nonprofit Sector Strategies' Continuous Improvement Program will provide your organization with a comprehensive review of your organization's processes with the following two objectives in mind:
We will help your organization better utilize its current technology in order to increase the internal benefits received and better serve the stakeholders.
Where possible, we will reduce manual processes and eliminate duplicative or redundant effort from departmental workflow processes so that existing staff can better support the organization.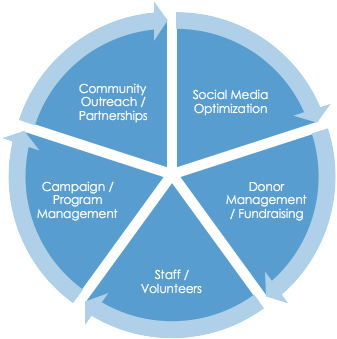 The result is that your organization will be poised for growth and better equipped to maximize mission impact.
If you would like to learn more about how we can develop a Continuous Improvement Program for your organization, contact us: