The Top 3 Questions To Ask… before forming a partnership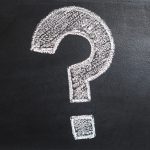 In my experience, partnerships among organizations are even more valuable in the nonprofit sector than other industries for a few reasons: Resources are often scarce, organizations' missions often overlap or complement one another, and expanding one's network of thought leaders and influencers can increase both organizations' long term sustainability.
But that doesn't mean that every partnership opportunity is worth pursuing.

As I talk about in an earlier blog, some organizations bite off more than they can chew. And that can lead to negative consequences for both parties.
So, to get grounded, organizations should ask themselves the following three questions to decide if now is the right time to embark on a new partnership:  
WIFM? ("What's in it for me?")


It's important to define the value (tangible or not) that you are gaining from a partner.




Conversely, it is EQUALLY important to feel confident in what your organization is bringing to the table.




Too often, nonprofits attempt to forge partnerships where they are too focused on what they are getting versus what it is they contribute to the partnership.



What can we define before agreeing to partner?




For example, if org A does a lot of advocacy and org B is more focused on community work, it might be smart for org A to ask, "Will you be comfortable standing beside us at a press conference to put pressure on the legislature?"




It is also worth asking

what the respective approval processes look like

. For example, if your organization would like to co-brand a best practices document, you might pose questions such as, "What are the steps to get the appropriate sign-off? How long does this typically take?" For example, I remember forging a valuable partnership with government entity, but not realizing that document approval on their end would take several weeks.



Who's your organization's point person? And how much does he or she already have on his or her plate?


As a nonprofit leader, you should be cognizant of staff burnout and mission creep. Oftentimes, it feels almost impossible not to take on the additional work or risk passing up a great opportunity. But without the health and productivity of your staff – your vital human capital – your organization could suffer in the end. 
Do you agree? We would love to hear from you in the comments section below.